Wisconsin line workers and firefighters work together in mock exercise to demonstrate the role of cooperation in preventing electrocution disasters
As an injury attorney who has spent 30 years helping people who have been hurt, or tragically the families of people who have been killed in electrocutions, I try to use this legal blog to write and teach on how we can prevent such terrible tragedies. It is not lost on me when writing about these cases that most issues center on predictable preventability. It is when this is ignored, often by companies that attempt to save money on inspection, maintenance and repair, that most of the tragic cases I have litigated occur. Which is why today I'm happy to share news of a recent mock training exercise between electrical linemen and first responders out of Wisconsin. This exercise illustrates the right way to handle a downed power line emergency, and it focused on cooperation and prevention.
Chippewa Valley Technical College held a demonstration for how rescue workers, first responders and power lineman must work together to ensure safety when power lines are involved any type of accident. The demonstration took place in the pole field behind CVTC's Energy Education Center.
The photos below are courtesy of the Leader-Telegram, from its story on the exercise, "The power of safety: Mock exercise shows the dangers of downed lines."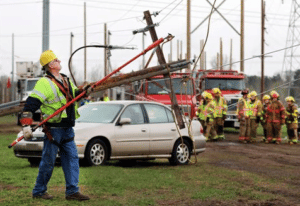 The mock exercise assignment was to respond to a downed power line that trapped three people in a car. A group of about 122 professional linemen and another 50 emergency response students of Hotline School, part of line worker training provided by the college, participated.
The purpose of the accident scenario, a first for the college that drew together linemen from other parts of Wisconsin as well as Iowa, Illinois and Minnesota, was to draw attention to each department's role in a disaster situation and the importance that they all communicate effectively to get the job done, according to the Leader-Telegram article.
Like in this exercise and the relationships that have been established in Eau Claire, Wisconsin, it's an immense help when fire crews have positive relationships with utility workers.
Far too often in electrocution events, this communication and cooperation never takes place. A problem I see as an attorney is that is often the electrical linemen, followed by investigators and defense attorneys from the electrical companies, are usually the first to enter the danger zone. Even before even the firefighters, police and ambulance crews.
For instance, within minutes of a serious electrocution death or injury, utility companies often have investigators at the site measuring, photographing and collecting evidence. This is happening, and sadly in some of my cases the defense is being prepared, even before the family of the accident victim has even been notified that their loved one has been shocked or has been seriously injured or killed.
This at times alters or "spoils" evidence of negligence on behalf of the power utility company, since those with liability are also the experts necessary to protect first responders.
But electrical line workers are crucial. Linemen who arrive at a scene must de-energize a system by cutting off power to live lines and installing grounds to make the area safe. And letting all of the first responders know the wires are off is clearly imperative. Assuming wires are de-energized in such an emergency situation is a recipe for further disaster.
Tags:
downed power line
,
first responders