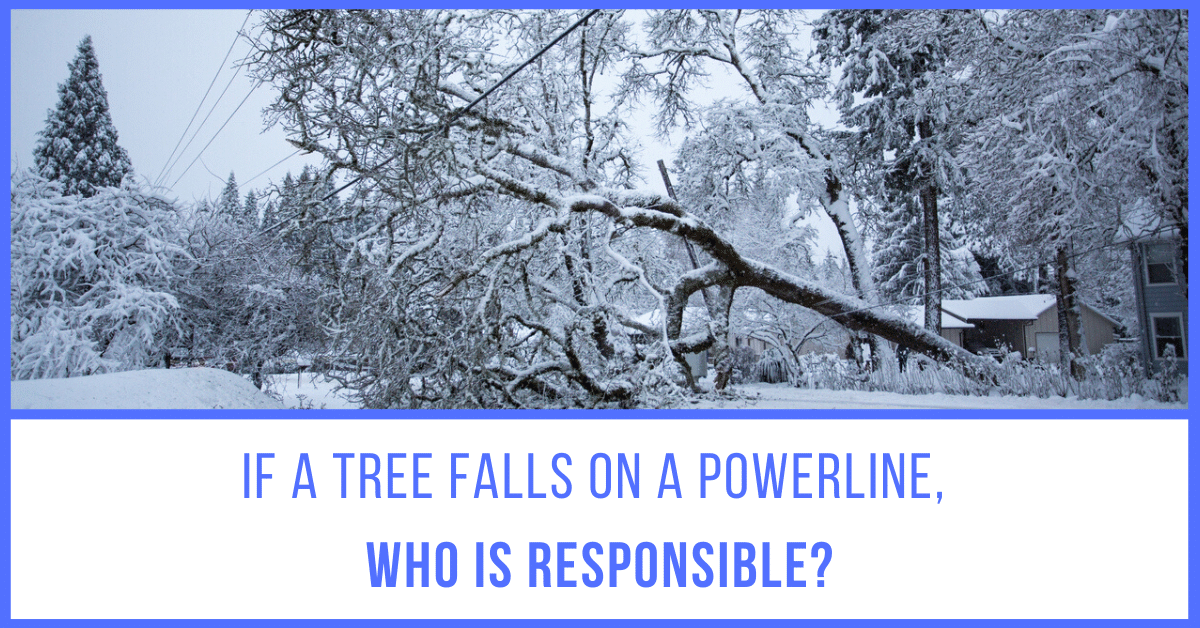 If a tree falls on power lines, then the electric utility company that owns the lines is generally responsible for repairing them and restoring power.
For electric shock prevention and electric shock dangers that can result from downed power lines due to trees falling on them, it is critical that utilities take seriously their obligation to engage in preventative tree trimming.
The National Electrical Safety Code (NESC) requires utility companies to make sure trees, branches and other vegetation near power lines are trimmed, pruned and/or removed as necessary to prevent damage to the lines that could create a risk of electrocution or electric shock injury.
However, a utility's tree-trimming duty generally only extends to pole-to-pole utility power lines. Trimming trees and vegetation around the utility's power line that connects a person's home to the utility pole is generally viewed as being the responsibility of the homeowner. This power line is called the "service drop."
What will utilities do if a tree falls on power lines?
It has been my experience that electric utility companies are not terribly detailed about their duties to protect the public from the dangers created by downed power lines.
However, in the context of lines that are brought down by trees due a storm, high winds and/or snow and ice during the winter, many utiltities are a bit more forthcoming about what they will do to help protect the public and to restore power.
Below I discuss the policies and responsibilities of several electric utility companies from around the country if a tree falls on power lines:
Consumers Energy: If a tree falls on power lines after a storm, Consumers Energy states "In the aftermath of a storm, our crews will work 24/7 to trim or remove any tree that is interfering with power restoration. After power has been restored and it is safe, it is the property owner's responsibility to clean up trees or debris left on their property following emergency tree trimming or removal."
ConEdison: ConEdison states their responsibility as follows: "We clear away any downed lines, trees . . . We fix the power lines. Con Edison owns and is responsible for repairing or replacing the service wire that comes from the street to your home. If fallen tree limbs interfere with the service wire, you're responsible for clearing the tree limbs on your property before we can restore your power."
PG&E: If a tree falls on power lines, PG&E states: "PG&E crews or contractors will remove trees and branches that cause outages. After clearing the vegetation, the tree owner is responsible for the rest of the trees' clean up."
Oklahoma Gas & Electric (OG&E): OG&E provides their stance if a tree falls on powers lines stating: "When an 'Act of Nature' (such as lightning, high winds, tornadoes, etc.) causes trees or other vegetation to fall across power lines and create power outages, we cut the trees and brush so poles and lines can be replaced and re-energized. Disposal of any wood, limbs or debris resulting from this type of emergency operation is the property owner's responsibility. . . . If a storm knocks down the service wire that leads from your home to the pole, OG&E will re-attach the service wire."
Idaho Power: Idaho power states that if a tree falls on power lines due to severe weather by saying: "When severe weather causes trees or other vegetation to fall across power lines, creating power outages, we cut the trees and brush so poles and lines can be replaced and re-energized. Disposal of any wood, limbs or debris resulting from this type of emergency operation is the property owner's responsibility."
We Energies: We Energies' policy on if a tree falls on power lines after a storm is as follows: "Storms can damage our electric distribution system. Trees and tree limbs falling on power lines during storms is one of the greatest causes of power outages. When storms occur, we quickly mobilize our crews to restore your power. Often, we remove fallen trees and broken limbs only to the point where we can restore power safely and quickly. We are not able to assist in removing debris from yards. Please contact your municipality for storm cleanup information."
PECO: If a tree falls on power lines after a storm PECO states: "Our first priority in response to any storm is to restore electric service to customers as quickly and as safely as possible, and to keep electrical facilities safe. To achieve these goals, PECO clearance crews have specific duties which differ from customer obligations.PECO Responsibility: Cutting, trimming or removing trees or branches from our equipment in an effort to restore service and ensure future reliability. Customer Responsibility: The disposal of branches, logs or other debris associated with trees damaged by storms, ice, winds or other natural causes, as well as debris from unscheduled emergency work."
Indianapolis Power & Light Company (IPL): "The fury of a wind or ice storm can snap heavy branches and topple trees into power lines. . . . In emergency situations involving tree trimming IPL DOES NOT clear away the debris. Emergency trimming situations include after a storm and any time there is tree-to-equipment contact, or where trees are close enough to equipment that an outage is highly likely. The clean-up work is the customer's responsibility and IPL recommends that customers contact their insurance company to see if they will cover the cost of hiring a clean-up crew."
Tags:
If a tree falls on power lines who is responsible